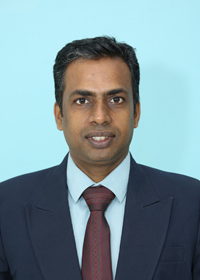 Mr. S. Shriparen

Lecturer (Probationary) (On Study Leave)
B.Sc. [Hons] (Jaffna), M.Sc. (Colombo)

shriparen@jfn.ac.lk

+94212218194

Research Interests:
M.Sc. in Computer Science (Colombo, Sri Lanka)
B.Sc. Special in Computer Science (Jaffna, Sri Lanka)
2018
S. Nimishan and S. Shriparen, "An Approach to Improve the Performance of Web Proxy Cache Replacement Using Machine Learning Techniques," 2018 IEEE International Conference on Information and Automation for Sustainability (ICIAfS), Colombo, Sri Lanka, 2018, pp. 1-6.
2012
S. Sriskandarajah and N. Ranasinghe, "Monitoring, Analysis and Modeling of HTTP and HTTPS Requests in a Campus LAN", Proceeding of the First National Conference on Technology and Management, SLIIT, Vol. 1, pp 100-105, 2012.