KEYNOTE SPEAKERS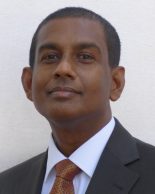 Mr. Gerard S. Saverimuthu
Technical Sales Leader,
Server Solutions, ASEAN,
IBM Systems for Cloud Platforms.
Biographical Profile:
Gerard Suren Saverimuthu currently works at IBM in Singapore as the regional technical sales leader managing technical teams across six of the ASEAN countries. During his 16 years IT working career he has worked in Sri Lanka, Singapore and Australia. He is originally from Sri Lanka and completed his secondary education in Jaffna after which he won a scholarship to complete his bachelor's degree in Computer Science from India. He holds a Masters degree from Nanyang Technological University, Singapore in the field of Information Management and has interests in Usability Design, Cognitive Computing, Cricket, Photography and teaching children.
For more details and to connect with Gerard, please visit: https://www.linkedin.com/in/gerardss
Topic:
"Artificial Intelligence use cases for South Asia and the importance of Industry – Research collaboration"
Abstract:
Artificial Intelligence (AI) is fast becoming part of our everyday lives. We are increasingly being surrounded by AI touch points. In this session, Gerard will talk about some of the AI use cases for South Asia, some real project experiences from industry and will explore the need and options for industry – research collaboration.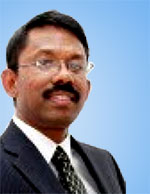 Eng. Lt. Col. Dr. C. D. Gamage
Department of Computer Science and Engineering
Faculty of Engineering, University of Moratuwa.
Biographical Profile:
Dr Chandana Gamage is a graduate of the University of Moratuwa in Sri Lanka where he belonged to the First Batch of Computer Engineering graduates in Sri Lanka and he has Masters in Engineering from the Asian Institute of Technology in Bangkok, Thailand and a PhD from Monash University in Melbourne, Australia specializing in computer network security and cryptography.
Chandana did his post-doctoral work with Prof Andrew Tannenbaum at Vrije Universiteit in Amsterdam, Netherlands. He has worked in Industry, in Academia and in the Military and is a Commissioned Officer in the Sri Lanka Army and a Chartered Engineer.
At present, Chandana is a senior lecturer in the Department of Computer Science & Engineering at the University of Moratuwa and was the former head of the department. His research interests are in the fields of cryptography, computer security, network security, virtual reality, augmented reality, mixed reality, embedded systems, and enterprise systems architectures.
Chandana led the development of Integrated Computer Engineering study stream at the CSE department that focus on realtime systems, embedded systems and industrial systems as core areas for the development of autonomous and robotic systems of the future. He has collaborated with his former students to create startup companies been working with students in the areas of virtual reality, augmented reality and commercialize indigenously developed technology.
Topic:
"An Embedded Computing Future" on how embedded computing is increasingly becoming prevalent in wearable computing, health care, transportation, entertainment, manufacturing, etc.